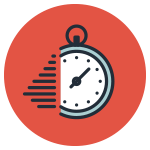 95% of our clients get their refund released in a timely manner.
---
What You Can Expect From Refund Rescue
In three easy steps you can begin the process of getting your tax refund in your hand.
1
Start an evaluation request. We only need minimal information to begin.
2
Refund Rescue will contact you directly via text, email, or a call. After the contact, we will send a secure text requesting you to submit information securely by smartphone.
3
Sit back and relax letting Refund Rescue deal with the IRS for you.
"Where's My Refund?"
Refund Status Types
Please pick one of the statuses below to learn more about it.